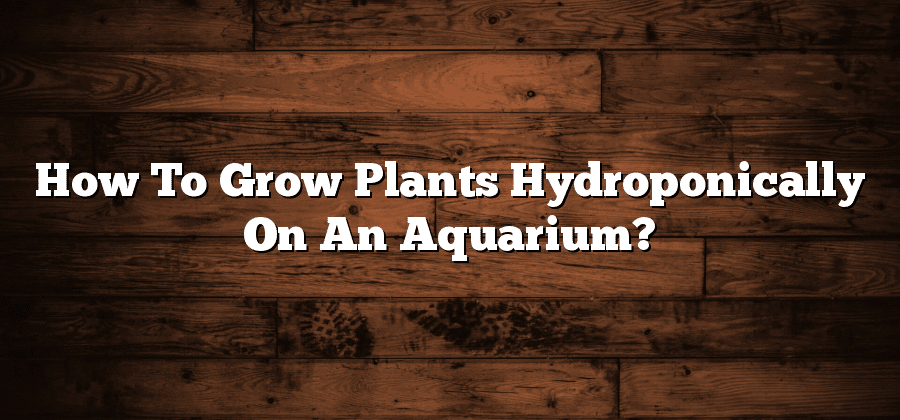 Aquariums are not just for fish anymore! With the rise of hydroponics, you can transform your aquarium into a thriving ecosystem for both aquatic life and lush, green plants. Hydroponic aquariums offer a unique and visually stunning way to grow plants without soil. In this article, we will guide you through the process of growing plants hydroponically on an aquarium, from selecting the right plants and equipment to maintaining a healthy aquatic environment.
Why Hydroponic Aquariums?
Before we dive into the how-to, let's explore the benefits of hydroponic aquariums:
1. Space Efficiency
Hydroponic aquariums take advantage of vertical space, making them ideal for urban dwellers with limited space for traditional gardening.
2. Water Efficiency
Hydroponics uses significantly less water than traditional soil gardening because it recirculates water within the system.
3. Faster Growth
Plants grown hydroponically often grow faster and healthier due to the direct access to nutrients and oxygen in the water.
4. Aesthetic Appeal
The combination of aquatic life and thriving plants creates a mesmerizing and visually appealing environment.
Getting Started
To get started with hydroponic aquariums, follow these steps:
1. Selecting Plants
Choose plants that thrive in aquatic environments and are well-suited for hydroponics. Some popular options include:
Anubias: These hardy, low-light plants are great for beginners.
Java Fern: Another low-maintenance plant that adds a natural look to your aquarium.
Cryptocoryne: Known for their vibrant colors and adaptability to various water conditions.
Amazon Sword: Ideal for larger aquariums, they can grow quite tall and make a stunning centerpiece.
2. Setting Up the Hydroponic System
a. Grow Bed
You'll need a grow bed within your aquarium. This can be as simple as a floating platform or a dedicated compartment within the tank. Ensure the grow bed is properly positioned to receive adequate light.
b. Substrate
Use a hydroponic substrate like clay pellets or coconut coir to support plant roots. Fill the grow bed with the substrate, leaving enough space for the plants.
c. Nutrient Solution
Prepare a nutrient solution by mixing hydroponic nutrient concentrates with water. Follow the manufacturer's instructions for the correct ratio. This solution will provide essential nutrients to your plants.
3. Planting
Plant your chosen aquatic plants into the grow bed, making sure their roots are in contact with the substrate. Arrange them according to your aesthetic preferences, considering their growth patterns and sizes.
4. Lighting
Adequate lighting is crucial for plant growth. Install LED grow lights or use natural sunlight if your aquarium is near a window. Ensure the light intensity and duration match the needs of your chosen plants.
Maintenance
Maintaining a hydroponic aquarium requires regular attention:
1. Water Quality
Monitor water quality using test kits to ensure proper pH, nutrient levels, and oxygen content. Perform water changes as needed to maintain a stable environment.
2. Pruning
Trim and prune your plants regularly to prevent overcrowding and to encourage healthy growth.
3. Nutrient Management
Keep an eye on nutrient levels in the solution, adjusting as necessary to meet the needs of your plants.
4. Pest Control
Inspect your plants for signs of pests or disease and take appropriate action to prevent their spread.
Conclusion
Growing plants hydroponically on an aquarium can be a rewarding and visually stunning endeavor. It offers a unique way to combine aquatic life and lush greenery in your home. By selecting the right plants, setting up the hydroponic system correctly, and maintaining water quality, you can create a thriving ecosystem that will captivate your senses and provide you with fresh, vibrant plants for years to come. So, why not take the plunge and turn your aquarium into a hydroponic wonderland? Your plants (and fish) will thank you for it!
Mastering Zoom Lenses for Landscape Photography
The Role of Focal Length in Portraiture
Latest Innovations in Camera Technology
Expert Tips for Cleaning and Maintaining Your Lenses
Ultimate Lens Buying Guide
DSLR vs. Mirrorless: Which is Right for You
Top 5 Prime Lenses Every Photographer Should Own
Understanding Lens Aperture and Its Impact on Photos
Comparing Wide-Angle Lenses: Which to Choose?
In-depth Camera Body Reviews
Mastering Zoom Lenses for Landscape Photography
The Role of Focal Length in Portraiture
Latest Innovations in Camera Technology
Expert Tips for Cleaning and Maintaining Your Lenses
Ultimate Lens Buying Guide
DSLR vs. Mirrorless: Which is Right for You
Top 5 Prime Lenses Every Photographer Should Own
Understanding Lens Aperture and Its Impact on Photos
Comparing Wide-Angle Lenses: Which to Choose?
In-depth Camera Body Reviews
Mastering Zoom Lenses for Landscape Photography
The Role of Focal Length in Portraiture
Latest Innovations in Camera Technology
Expert Tips for Cleaning and Maintaining Your Lenses
Ultimate Lens Buying Guide
DSLR vs. Mirrorless: Which is Right for You
Top 5 Prime Lenses Every Photographer Should Own
Understanding Lens Aperture and Its Impact on Photos
Comparing Wide-Angle Lenses: Which to Choose?
In-depth Camera Body Reviews
Mastering Zoom Lenses for Landscape Photography
The Role of Focal Length in Portraiture
Latest Innovations in Camera Technology
Expert Tips for Cleaning and Maintaining Your Lenses
Ultimate Lens Buying Guide
DSLR vs. Mirrorless: Which is Right for You
Top 5 Prime Lenses Every Photographer Should Own
Understanding Lens Aperture and Its Impact on Photos
Comparing Wide-Angle Lenses: Which to Choose?
In-depth Camera Body Reviews
Mastering Zoom Lenses for Landscape Photography
The Role of Focal Length in Portraiture
Latest Innovations in Camera Technology
Expert Tips for Cleaning and Maintaining Your Lenses
Ultimate Lens Buying Guide
DSLR vs. Mirrorless: Which is Right for You
Top 5 Prime Lenses Every Photographer Should Own
Understanding Lens Aperture and Its Impact on Photos
Comparing Wide-Angle Lenses: Which to Choose?
In-depth Camera Body Reviews
Mastering Zoom Lenses for Landscape Photography
The Role of Focal Length in Portraiture
Latest Innovations in Camera Technology
Expert Tips for Cleaning and Maintaining Your Lenses
Ultimate Lens Buying Guide
DSLR vs. Mirrorless: Which is Right for You
Top 5 Prime Lenses Every Photographer Should Own
Understanding Lens Aperture and Its Impact on Photos
Comparing Wide-Angle Lenses: Which to Choose?
In-depth Camera Body Reviews
Mastering Zoom Lenses for Landscape Photography
The Role of Focal Length in Portraiture
Latest Innovations in Camera Technology
Expert Tips for Cleaning and Maintaining Your Lenses
Ultimate Lens Buying Guide
DSLR vs. Mirrorless: Which is Right for You
Top 5 Prime Lenses Every Photographer Should Own
Understanding Lens Aperture and Its Impact on Photos
Comparing Wide-Angle Lenses: Which to Choose?
In-depth Camera Body Reviews
Mastering Zoom Lenses for Landscape Photography
The Role of Focal Length in Portraiture
Latest Innovations in Camera Technology
Expert Tips for Cleaning and Maintaining Your Lenses
Ultimate Lens Buying Guide
DSLR vs. Mirrorless: Which is Right for You
Top 5 Prime Lenses Every Photographer Should Own
Understanding Lens Aperture and Its Impact on Photos
Comparing Wide-Angle Lenses: Which to Choose?
In-depth Camera Body Reviews
Mastering Zoom Lenses for Landscape Photography
The Role of Focal Length in Portraiture
Latest Innovations in Camera Technology
Expert Tips for Cleaning and Maintaining Your Lenses
Ultimate Lens Buying Guide
DSLR vs. Mirrorless: Which is Right for You
Top 5 Prime Lenses Every Photographer Should Own
Understanding Lens Aperture and Its Impact on Photos
Comparing Wide-Angle Lenses: Which to Choose?
In-depth Camera Body Reviews
Mastering Zoom Lenses for Landscape Photography
The Role of Focal Length in Portraiture
Latest Innovations in Camera Technology
Expert Tips for Cleaning and Maintaining Your Lenses
Ultimate Lens Buying Guide
DSLR vs. Mirrorless: Which is Right for You
Top 5 Prime Lenses Every Photographer Should Own
Understanding Lens Aperture and Its Impact on Photos
Comparing Wide-Angle Lenses: Which to Choose?
In-depth Camera Body Reviews
Mastering Zoom Lenses for Landscape Photography
The Role of Focal Length in Portraiture
Latest Innovations in Camera Technology
Expert Tips for Cleaning and Maintaining Your Lenses
Ultimate Lens Buying Guide
DSLR vs. Mirrorless: Which is Right for You
Top 5 Prime Lenses Every Photographer Should Own
Understanding Lens Aperture and Its Impact on Photos
Comparing Wide-Angle Lenses: Which to Choose?
In-depth Camera Body Reviews
Mastering Zoom Lenses for Landscape Photography
The Role of Focal Length in Portraiture
Latest Innovations in Camera Technology
Expert Tips for Cleaning and Maintaining Your Lenses
Ultimate Lens Buying Guide
DSLR vs. Mirrorless: Which is Right for You
Top 5 Prime Lenses Every Photographer Should Own
Understanding Lens Aperture and Its Impact on Photos
Comparing Wide-Angle Lenses: Which to Choose?
In-depth Camera Body Reviews
Mastering Zoom Lenses for Landscape Photography
The Role of Focal Length in Portraiture
Latest Innovations in Camera Technology
Expert Tips for Cleaning and Maintaining Your Lenses
Ultimate Lens Buying Guide
DSLR vs. Mirrorless: Which is Right for You
Top 5 Prime Lenses Every Photographer Should Own
Understanding Lens Aperture and Its Impact on Photos
Comparing Wide-Angle Lenses: Which to Choose?
In-depth Camera Body Reviews
Mastering Zoom Lenses for Landscape Photography
The Role of Focal Length in Portraiture
Latest Innovations in Camera Technology
Expert Tips for Cleaning and Maintaining Your Lenses
Ultimate Lens Buying Guide
DSLR vs. Mirrorless: Which is Right for You
Top 5 Prime Lenses Every Photographer Should Own
Understanding Lens Aperture and Its Impact on Photos
Comparing Wide-Angle Lenses: Which to Choose?
In-depth Camera Body Reviews
Mastering Zoom Lenses for Landscape Photography
The Role of Focal Length in Portraiture
Latest Innovations in Camera Technology
Expert Tips for Cleaning and Maintaining Your Lenses
Ultimate Lens Buying Guide
DSLR vs. Mirrorless: Which is Right for You
Top 5 Prime Lenses Every Photographer Should Own
Understanding Lens Aperture and Its Impact on Photos
Comparing Wide-Angle Lenses: Which to Choose?
In-depth Camera Body Reviews
Mastering Zoom Lenses for Landscape Photography
The Role of Focal Length in Portraiture
Latest Innovations in Camera Technology
Expert Tips for Cleaning and Maintaining Your Lenses
Ultimate Lens Buying Guide
DSLR vs. Mirrorless: Which is Right for You
Top 5 Prime Lenses Every Photographer Should Own
Understanding Lens Aperture and Its Impact on Photos
Comparing Wide-Angle Lenses: Which to Choose?
In-depth Camera Body Reviews
Mastering Zoom Lenses for Landscape Photography
The Role of Focal Length in Portraiture
Latest Innovations in Camera Technology
Expert Tips for Cleaning and Maintaining Your Lenses
Ultimate Lens Buying Guide
DSLR vs. Mirrorless: Which is Right for You
Top 5 Prime Lenses Every Photographer Should Own
Understanding Lens Aperture and Its Impact on Photos
Comparing Wide-Angle Lenses: Which to Choose?
In-depth Camera Body Reviews
Mastering Zoom Lenses for Landscape Photography
The Role of Focal Length in Portraiture
Latest Innovations in Camera Technology
Expert Tips for Cleaning and Maintaining Your Lenses
Ultimate Lens Buying Guide
DSLR vs. Mirrorless: Which is Right for You
Top 5 Prime Lenses Every Photographer Should Own
Understanding Lens Aperture and Its Impact on Photos
Comparing Wide-Angle Lenses: Which to Choose?
In-depth Camera Body Reviews
Mastering Zoom Lenses for Landscape Photography
The Role of Focal Length in Portraiture
Latest Innovations in Camera Technology
Expert Tips for Cleaning and Maintaining Your Lenses
Ultimate Lens Buying Guide
DSLR vs. Mirrorless: Which is Right for You
Top 5 Prime Lenses Every Photographer Should Own
Understanding Lens Aperture and Its Impact on Photos
Comparing Wide-Angle Lenses: Which to Choose?
In-depth Camera Body Reviews
Mastering Zoom Lenses for Landscape Photography
The Role of Focal Length in Portraiture
Latest Innovations in Camera Technology
Expert Tips for Cleaning and Maintaining Your Lenses
Ultimate Lens Buying Guide
DSLR vs. Mirrorless: Which is Right for You
Top 5 Prime Lenses Every Photographer Should Own
Understanding Lens Aperture and Its Impact on Photos
Comparing Wide-Angle Lenses: Which to Choose?
In-depth Camera Body Reviews