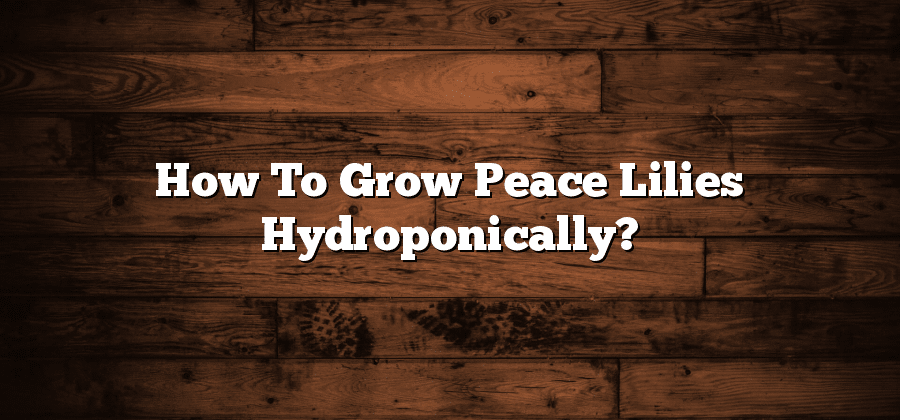 Introduction
Peace lilies (Spathiphyllum) are popular indoor plants known for their lush, dark green foliage and elegant white flowers. They are relatively easy to care for, making them a favorite among both novice and experienced gardeners. While peace lilies are traditionally grown in soil, they can also thrive when cultivated hydroponically. Hydroponic cultivation offers several advantages, such as precise control over nutrient levels and a cleaner, pest-free environment. In this article, we will guide you through the process of growing peace lilies hydroponically.
What You'll Need
Before you start growing peace lilies hydroponically, gather the following materials and equipment:
Peace Lily Plants: Choose healthy peace lily plants with well-established root systems.
Hydroponic System: Select a hydroponic system of your choice. Common options include deep water culture (DWC), nutrient film technique (NFT), and wick systems.
Growing Medium: Hydroponic systems require an inert growing medium. Coco coir, perlite, or vermiculite are suitable choices.
Nutrient Solution: Use a hydroponic nutrient solution that is balanced for flowering plants. Peace lilies thrive with a nutrient solution rich in nitrogen, phosphorus, and potassium (N-P-K).
pH Testing Kit: To ensure the nutrient solution's pH remains within the ideal range, you'll need a pH testing kit.
pH Adjusting Solutions: pH up and pH down solutions are essential to maintain the pH level of your nutrient solution.
Hydroponic Lighting: Peace lilies require adequate light. LED grow lights or fluorescent lights work well for hydroponic setups.
Water Pump (for some systems): If your hydroponic system requires water circulation, you'll need a water pump.
Timer: Set up a timer for your grow lights to ensure consistent light cycles.
Step-by-Step Guide
Follow these steps to grow peace lilies hydroponically:
1. Prepare Your Hydroponic System
Choose your hydroponic system and set it up according to the manufacturer's instructions. Ensure that the system is clean and free of contaminants before proceeding.
2. Select the Growing Medium
Fill your hydroponic system's growing containers with the chosen growing medium. Make sure it's well-drained and provides adequate support for the plants.
3. Plant Your Peace Lilies
Carefully transplant your peace lily plants into the growing medium. Gently place the roots into the medium and ensure the crown of the plant remains above the surface. Space the plants according to the recommendations for your chosen hydroponic system.
4. Mix the Nutrient Solution
Prepare the nutrient solution by following the manufacturer's instructions on the packaging. Ensure that the solution is well-mixed and at the appropriate strength for peace lilies.
5. Monitor and Adjust pH
Regularly check the pH of your nutrient solution using the pH testing kit. Peace lilies prefer a slightly acidic pH of around 6.0 to 6.5. Use pH up or pH down solutions as needed to maintain the desired pH level.
6. Provide Adequate Light
Place your hydroponic peace lilies under suitable grow lights. Peace lilies require bright, indirect light. Ensure they receive around 12 to 16 hours of light per day for optimal growth.
7. Maintain Water and Nutrient Levels
Keep an eye on the water level in your hydroponic system and replenish it as needed. Also, monitor the nutrient solution's strength and adjust it according to the growth stage of your peace lilies.
8. Prune and Trim
Regularly trim dead or yellowing leaves and spent flowers to encourage new growth and maintain the plant's appearance.
9. Troubleshoot Issues
Keep an eye out for common problems such as nutrient deficiencies, pests, or diseases. Address these issues promptly to ensure your peace lilies remain healthy.
10. Harvesting and Enjoying
Peace lilies typically do not produce edible fruits or vegetables. Instead, you can enjoy their beautiful foliage and occasional white flowers, which can last for weeks.
Conclusion
Growing peace lilies hydroponically can be a rewarding and aesthetically pleasing venture. By providing your plants with the right nutrient solution, lighting, and care, you can enjoy the lush greenery and elegant blooms of peace lilies in your indoor hydroponic garden. Remember to regularly monitor and adjust conditions as needed to keep your peace lilies thriving. With proper care, your hydroponic peace lilies will bring tranquility and beauty to your living space.
Mastering Zoom Lenses for Landscape Photography
The Role of Focal Length in Portraiture
Latest Innovations in Camera Technology
Expert Tips for Cleaning and Maintaining Your Lenses
Ultimate Lens Buying Guide
DSLR vs. Mirrorless: Which is Right for You
Top 5 Prime Lenses Every Photographer Should Own
Understanding Lens Aperture and Its Impact on Photos
Comparing Wide-Angle Lenses: Which to Choose?
In-depth Camera Body Reviews
Mastering Zoom Lenses for Landscape Photography
The Role of Focal Length in Portraiture
Latest Innovations in Camera Technology
Expert Tips for Cleaning and Maintaining Your Lenses
Ultimate Lens Buying Guide
DSLR vs. Mirrorless: Which is Right for You
Top 5 Prime Lenses Every Photographer Should Own
Understanding Lens Aperture and Its Impact on Photos
Comparing Wide-Angle Lenses: Which to Choose?
In-depth Camera Body Reviews
Mastering Zoom Lenses for Landscape Photography
The Role of Focal Length in Portraiture
Latest Innovations in Camera Technology
Expert Tips for Cleaning and Maintaining Your Lenses
Ultimate Lens Buying Guide
DSLR vs. Mirrorless: Which is Right for You
Top 5 Prime Lenses Every Photographer Should Own
Understanding Lens Aperture and Its Impact on Photos
Comparing Wide-Angle Lenses: Which to Choose?
In-depth Camera Body Reviews
Mastering Zoom Lenses for Landscape Photography
The Role of Focal Length in Portraiture
Latest Innovations in Camera Technology
Expert Tips for Cleaning and Maintaining Your Lenses
Ultimate Lens Buying Guide
DSLR vs. Mirrorless: Which is Right for You
Top 5 Prime Lenses Every Photographer Should Own
Understanding Lens Aperture and Its Impact on Photos
Comparing Wide-Angle Lenses: Which to Choose?
In-depth Camera Body Reviews
Mastering Zoom Lenses for Landscape Photography
The Role of Focal Length in Portraiture
Latest Innovations in Camera Technology
Expert Tips for Cleaning and Maintaining Your Lenses
Ultimate Lens Buying Guide
DSLR vs. Mirrorless: Which is Right for You
Top 5 Prime Lenses Every Photographer Should Own
Understanding Lens Aperture and Its Impact on Photos
Comparing Wide-Angle Lenses: Which to Choose?
In-depth Camera Body Reviews
Mastering Zoom Lenses for Landscape Photography
The Role of Focal Length in Portraiture
Latest Innovations in Camera Technology
Expert Tips for Cleaning and Maintaining Your Lenses
Ultimate Lens Buying Guide
DSLR vs. Mirrorless: Which is Right for You
Top 5 Prime Lenses Every Photographer Should Own
Understanding Lens Aperture and Its Impact on Photos
Comparing Wide-Angle Lenses: Which to Choose?
In-depth Camera Body Reviews
Mastering Zoom Lenses for Landscape Photography
The Role of Focal Length in Portraiture
Latest Innovations in Camera Technology
Expert Tips for Cleaning and Maintaining Your Lenses
Ultimate Lens Buying Guide
DSLR vs. Mirrorless: Which is Right for You
Top 5 Prime Lenses Every Photographer Should Own
Understanding Lens Aperture and Its Impact on Photos
Comparing Wide-Angle Lenses: Which to Choose?
In-depth Camera Body Reviews
Mastering Zoom Lenses for Landscape Photography
The Role of Focal Length in Portraiture
Latest Innovations in Camera Technology
Expert Tips for Cleaning and Maintaining Your Lenses
Ultimate Lens Buying Guide
DSLR vs. Mirrorless: Which is Right for You
Top 5 Prime Lenses Every Photographer Should Own
Understanding Lens Aperture and Its Impact on Photos
Comparing Wide-Angle Lenses: Which to Choose?
In-depth Camera Body Reviews
Mastering Zoom Lenses for Landscape Photography
The Role of Focal Length in Portraiture
Latest Innovations in Camera Technology
Expert Tips for Cleaning and Maintaining Your Lenses
Ultimate Lens Buying Guide
DSLR vs. Mirrorless: Which is Right for You
Top 5 Prime Lenses Every Photographer Should Own
Understanding Lens Aperture and Its Impact on Photos
Comparing Wide-Angle Lenses: Which to Choose?
In-depth Camera Body Reviews
Mastering Zoom Lenses for Landscape Photography
The Role of Focal Length in Portraiture
Latest Innovations in Camera Technology
Expert Tips for Cleaning and Maintaining Your Lenses
Ultimate Lens Buying Guide
DSLR vs. Mirrorless: Which is Right for You
Top 5 Prime Lenses Every Photographer Should Own
Understanding Lens Aperture and Its Impact on Photos
Comparing Wide-Angle Lenses: Which to Choose?
In-depth Camera Body Reviews
Mastering Zoom Lenses for Landscape Photography
The Role of Focal Length in Portraiture
Latest Innovations in Camera Technology
Expert Tips for Cleaning and Maintaining Your Lenses
Ultimate Lens Buying Guide
DSLR vs. Mirrorless: Which is Right for You
Top 5 Prime Lenses Every Photographer Should Own
Understanding Lens Aperture and Its Impact on Photos
Comparing Wide-Angle Lenses: Which to Choose?
In-depth Camera Body Reviews
Mastering Zoom Lenses for Landscape Photography
The Role of Focal Length in Portraiture
Latest Innovations in Camera Technology
Expert Tips for Cleaning and Maintaining Your Lenses
Ultimate Lens Buying Guide
DSLR vs. Mirrorless: Which is Right for You
Top 5 Prime Lenses Every Photographer Should Own
Understanding Lens Aperture and Its Impact on Photos
Comparing Wide-Angle Lenses: Which to Choose?
In-depth Camera Body Reviews
Mastering Zoom Lenses for Landscape Photography
The Role of Focal Length in Portraiture
Latest Innovations in Camera Technology
Expert Tips for Cleaning and Maintaining Your Lenses
Ultimate Lens Buying Guide
DSLR vs. Mirrorless: Which is Right for You
Top 5 Prime Lenses Every Photographer Should Own
Understanding Lens Aperture and Its Impact on Photos
Comparing Wide-Angle Lenses: Which to Choose?
In-depth Camera Body Reviews
Mastering Zoom Lenses for Landscape Photography
The Role of Focal Length in Portraiture
Latest Innovations in Camera Technology
Expert Tips for Cleaning and Maintaining Your Lenses
Ultimate Lens Buying Guide
DSLR vs. Mirrorless: Which is Right for You
Top 5 Prime Lenses Every Photographer Should Own
Understanding Lens Aperture and Its Impact on Photos
Comparing Wide-Angle Lenses: Which to Choose?
In-depth Camera Body Reviews
Mastering Zoom Lenses for Landscape Photography
The Role of Focal Length in Portraiture
Latest Innovations in Camera Technology
Expert Tips for Cleaning and Maintaining Your Lenses
Ultimate Lens Buying Guide
DSLR vs. Mirrorless: Which is Right for You
Top 5 Prime Lenses Every Photographer Should Own
Understanding Lens Aperture and Its Impact on Photos
Comparing Wide-Angle Lenses: Which to Choose?
In-depth Camera Body Reviews
Mastering Zoom Lenses for Landscape Photography
The Role of Focal Length in Portraiture
Latest Innovations in Camera Technology
Expert Tips for Cleaning and Maintaining Your Lenses
Ultimate Lens Buying Guide
DSLR vs. Mirrorless: Which is Right for You
Top 5 Prime Lenses Every Photographer Should Own
Understanding Lens Aperture and Its Impact on Photos
Comparing Wide-Angle Lenses: Which to Choose?
In-depth Camera Body Reviews
Mastering Zoom Lenses for Landscape Photography
The Role of Focal Length in Portraiture
Latest Innovations in Camera Technology
Expert Tips for Cleaning and Maintaining Your Lenses
Ultimate Lens Buying Guide
DSLR vs. Mirrorless: Which is Right for You
Top 5 Prime Lenses Every Photographer Should Own
Understanding Lens Aperture and Its Impact on Photos
Comparing Wide-Angle Lenses: Which to Choose?
In-depth Camera Body Reviews
Mastering Zoom Lenses for Landscape Photography
The Role of Focal Length in Portraiture
Latest Innovations in Camera Technology
Expert Tips for Cleaning and Maintaining Your Lenses
Ultimate Lens Buying Guide
DSLR vs. Mirrorless: Which is Right for You
Top 5 Prime Lenses Every Photographer Should Own
Understanding Lens Aperture and Its Impact on Photos
Comparing Wide-Angle Lenses: Which to Choose?
In-depth Camera Body Reviews
Mastering Zoom Lenses for Landscape Photography
The Role of Focal Length in Portraiture
Latest Innovations in Camera Technology
Expert Tips for Cleaning and Maintaining Your Lenses
Ultimate Lens Buying Guide
DSLR vs. Mirrorless: Which is Right for You
Top 5 Prime Lenses Every Photographer Should Own
Understanding Lens Aperture and Its Impact on Photos
Comparing Wide-Angle Lenses: Which to Choose?
In-depth Camera Body Reviews
Mastering Zoom Lenses for Landscape Photography
The Role of Focal Length in Portraiture
Latest Innovations in Camera Technology
Expert Tips for Cleaning and Maintaining Your Lenses
Ultimate Lens Buying Guide
DSLR vs. Mirrorless: Which is Right for You
Top 5 Prime Lenses Every Photographer Should Own
Understanding Lens Aperture and Its Impact on Photos
Comparing Wide-Angle Lenses: Which to Choose?
In-depth Camera Body Reviews