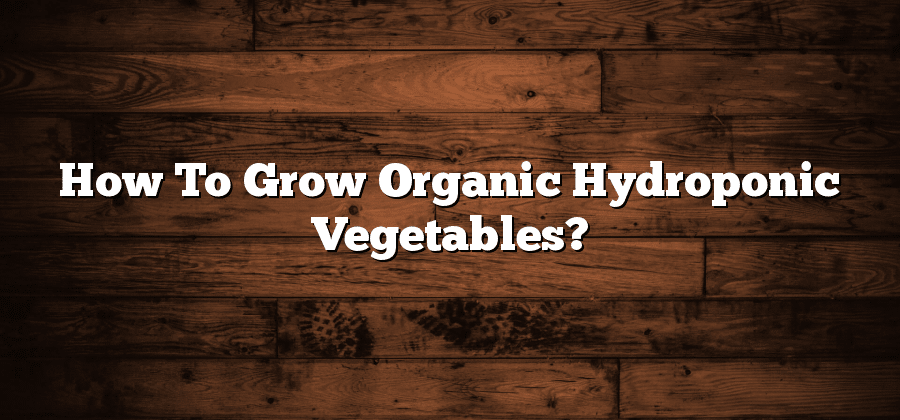 Hydroponic gardening is gaining popularity among home gardeners and commercial growers alike. One of the most appealing aspects of hydroponics is the ability to grow organic vegetables without soil. This method offers several advantages, including faster growth, higher yields, and better control over the growing environment. In this article, we will explore the steps to successfully grow organic hydroponic vegetables.
Understanding Hydroponics
Before diving into the specifics of growing organic hydroponic vegetables, it's important to understand the basic principles of hydroponics.
What Is Hydroponics?
Hydroponics is a soil-less gardening technique that involves growing plants in nutrient-rich water. Instead of relying on soil to provide essential nutrients, hydroponic systems deliver a precise mixture of nutrients directly to the plant roots. This method allows plants to grow faster and more efficiently while minimizing the risk of soil-borne diseases.
Advantages of Hydroponics
Faster Growth: Hydroponic vegetables tend to grow faster than their soil-grown counterparts due to the optimized nutrient delivery system.
Higher Yields: With proper care and maintenance, hydroponic systems can produce significantly higher yields in a smaller space.
Reduced Pest and Disease Risk: Soil-borne pests and diseases are less of a concern in hydroponic systems, reducing the need for pesticides and herbicides.
Precise Nutrient Control: Hydroponics allows growers to fine-tune nutrient levels, ensuring that plants receive exactly what they need for optimal growth.
Steps to Grow Organic Hydroponic Vegetables
Now that you have a basic understanding of hydroponics, let's explore the steps to grow organic hydroponic vegetables.
Step 1: Choose a Suitable Hydroponic System
There are several types of hydroponic systems to choose from, including deep water culture, nutrient film technique, and drip systems. Select the system that best suits your space, budget, and the type of vegetables you want to grow.
Step 2: Select Organic Nutrients
To ensure that your hydroponic vegetables are truly organic, use organic nutrient solutions. These products are specifically formulated to meet the nutrient needs of plants without synthetic chemicals.
Step 3: Start with Healthy Seedlings
Begin with healthy organic seedlings or seeds. Transplant them into your hydroponic system once they have developed a robust root system.
Step 4: Maintain Proper pH Levels
Maintaining the correct pH level is crucial for nutrient absorption. Most hydroponic vegetables thrive in a pH range of 5.5 to 6.5. Regularly monitor and adjust the pH as needed.
Step 5: Provide Adequate Lighting
Indoor hydroponic systems require artificial lighting to mimic natural sunlight. Use high-quality LED or fluorescent grow lights to provide the necessary light spectrum for plant growth.
Step 6: Monitor Temperature and Humidity
Maintain an appropriate temperature and humidity level in your growing environment. Different vegetables have varying temperature requirements, so research the specific needs of your chosen crops.
Step 7: Water and Nutrient Delivery
Ensure that your hydroponic system provides a continuous flow of nutrient-rich water to the plant roots. Regularly check and adjust nutrient levels as the plants grow.
Step 8: Pruning and Training
Prune your plants as they grow to encourage healthy growth and prevent overcrowding. Additionally, consider using training techniques such as trellising for vine crops.
Step 9: Pest and Disease Management
Although hydroponic systems are less susceptible to pests and diseases, it's essential to remain vigilant. Implement preventive measures like introducing beneficial insects and maintaining cleanliness in your growing area.
Step 10: Harvesting
Harvest your organic hydroponic vegetables when they reach their peak ripeness. Be sure to handle them carefully to avoid damaging the plants or contaminating the produce.
Conclusion
Growing organic hydroponic vegetables can be a rewarding and sustainable way to enjoy fresh, healthy produce year-round. By following these steps and maintaining a consistent and attentive approach to your hydroponic garden, you can enjoy the benefits of organic vegetables without the need for soil. Happy growing!
Mastering Zoom Lenses for Landscape Photography
The Role of Focal Length in Portraiture
Latest Innovations in Camera Technology
Expert Tips for Cleaning and Maintaining Your Lenses
Ultimate Lens Buying Guide
DSLR vs. Mirrorless: Which is Right for You
Top 5 Prime Lenses Every Photographer Should Own
Understanding Lens Aperture and Its Impact on Photos
Comparing Wide-Angle Lenses: Which to Choose?
In-depth Camera Body Reviews
Mastering Zoom Lenses for Landscape Photography
The Role of Focal Length in Portraiture
Latest Innovations in Camera Technology
Expert Tips for Cleaning and Maintaining Your Lenses
Ultimate Lens Buying Guide
DSLR vs. Mirrorless: Which is Right for You
Top 5 Prime Lenses Every Photographer Should Own
Understanding Lens Aperture and Its Impact on Photos
Comparing Wide-Angle Lenses: Which to Choose?
In-depth Camera Body Reviews
Mastering Zoom Lenses for Landscape Photography
The Role of Focal Length in Portraiture
Latest Innovations in Camera Technology
Expert Tips for Cleaning and Maintaining Your Lenses
Ultimate Lens Buying Guide
DSLR vs. Mirrorless: Which is Right for You
Top 5 Prime Lenses Every Photographer Should Own
Understanding Lens Aperture and Its Impact on Photos
Comparing Wide-Angle Lenses: Which to Choose?
In-depth Camera Body Reviews
Mastering Zoom Lenses for Landscape Photography
The Role of Focal Length in Portraiture
Latest Innovations in Camera Technology
Expert Tips for Cleaning and Maintaining Your Lenses
Ultimate Lens Buying Guide
DSLR vs. Mirrorless: Which is Right for You
Top 5 Prime Lenses Every Photographer Should Own
Understanding Lens Aperture and Its Impact on Photos
Comparing Wide-Angle Lenses: Which to Choose?
In-depth Camera Body Reviews
Mastering Zoom Lenses for Landscape Photography
The Role of Focal Length in Portraiture
Latest Innovations in Camera Technology
Expert Tips for Cleaning and Maintaining Your Lenses
Ultimate Lens Buying Guide
DSLR vs. Mirrorless: Which is Right for You
Top 5 Prime Lenses Every Photographer Should Own
Understanding Lens Aperture and Its Impact on Photos
Comparing Wide-Angle Lenses: Which to Choose?
In-depth Camera Body Reviews
Mastering Zoom Lenses for Landscape Photography
The Role of Focal Length in Portraiture
Latest Innovations in Camera Technology
Expert Tips for Cleaning and Maintaining Your Lenses
Ultimate Lens Buying Guide
DSLR vs. Mirrorless: Which is Right for You
Top 5 Prime Lenses Every Photographer Should Own
Understanding Lens Aperture and Its Impact on Photos
Comparing Wide-Angle Lenses: Which to Choose?
In-depth Camera Body Reviews
Mastering Zoom Lenses for Landscape Photography
The Role of Focal Length in Portraiture
Latest Innovations in Camera Technology
Expert Tips for Cleaning and Maintaining Your Lenses
Ultimate Lens Buying Guide
DSLR vs. Mirrorless: Which is Right for You
Top 5 Prime Lenses Every Photographer Should Own
Understanding Lens Aperture and Its Impact on Photos
Comparing Wide-Angle Lenses: Which to Choose?
In-depth Camera Body Reviews
Mastering Zoom Lenses for Landscape Photography
The Role of Focal Length in Portraiture
Latest Innovations in Camera Technology
Expert Tips for Cleaning and Maintaining Your Lenses
Ultimate Lens Buying Guide
DSLR vs. Mirrorless: Which is Right for You
Top 5 Prime Lenses Every Photographer Should Own
Understanding Lens Aperture and Its Impact on Photos
Comparing Wide-Angle Lenses: Which to Choose?
In-depth Camera Body Reviews
Mastering Zoom Lenses for Landscape Photography
The Role of Focal Length in Portraiture
Latest Innovations in Camera Technology
Expert Tips for Cleaning and Maintaining Your Lenses
Ultimate Lens Buying Guide
DSLR vs. Mirrorless: Which is Right for You
Top 5 Prime Lenses Every Photographer Should Own
Understanding Lens Aperture and Its Impact on Photos
Comparing Wide-Angle Lenses: Which to Choose?
In-depth Camera Body Reviews
Mastering Zoom Lenses for Landscape Photography
The Role of Focal Length in Portraiture
Latest Innovations in Camera Technology
Expert Tips for Cleaning and Maintaining Your Lenses
Ultimate Lens Buying Guide
DSLR vs. Mirrorless: Which is Right for You
Top 5 Prime Lenses Every Photographer Should Own
Understanding Lens Aperture and Its Impact on Photos
Comparing Wide-Angle Lenses: Which to Choose?
In-depth Camera Body Reviews
Mastering Zoom Lenses for Landscape Photography
The Role of Focal Length in Portraiture
Latest Innovations in Camera Technology
Expert Tips for Cleaning and Maintaining Your Lenses
Ultimate Lens Buying Guide
DSLR vs. Mirrorless: Which is Right for You
Top 5 Prime Lenses Every Photographer Should Own
Understanding Lens Aperture and Its Impact on Photos
Comparing Wide-Angle Lenses: Which to Choose?
In-depth Camera Body Reviews
Mastering Zoom Lenses for Landscape Photography
The Role of Focal Length in Portraiture
Latest Innovations in Camera Technology
Expert Tips for Cleaning and Maintaining Your Lenses
Ultimate Lens Buying Guide
DSLR vs. Mirrorless: Which is Right for You
Top 5 Prime Lenses Every Photographer Should Own
Understanding Lens Aperture and Its Impact on Photos
Comparing Wide-Angle Lenses: Which to Choose?
In-depth Camera Body Reviews
Mastering Zoom Lenses for Landscape Photography
The Role of Focal Length in Portraiture
Latest Innovations in Camera Technology
Expert Tips for Cleaning and Maintaining Your Lenses
Ultimate Lens Buying Guide
DSLR vs. Mirrorless: Which is Right for You
Top 5 Prime Lenses Every Photographer Should Own
Understanding Lens Aperture and Its Impact on Photos
Comparing Wide-Angle Lenses: Which to Choose?
In-depth Camera Body Reviews
Mastering Zoom Lenses for Landscape Photography
The Role of Focal Length in Portraiture
Latest Innovations in Camera Technology
Expert Tips for Cleaning and Maintaining Your Lenses
Ultimate Lens Buying Guide
DSLR vs. Mirrorless: Which is Right for You
Top 5 Prime Lenses Every Photographer Should Own
Understanding Lens Aperture and Its Impact on Photos
Comparing Wide-Angle Lenses: Which to Choose?
In-depth Camera Body Reviews
Mastering Zoom Lenses for Landscape Photography
The Role of Focal Length in Portraiture
Latest Innovations in Camera Technology
Expert Tips for Cleaning and Maintaining Your Lenses
Ultimate Lens Buying Guide
DSLR vs. Mirrorless: Which is Right for You
Top 5 Prime Lenses Every Photographer Should Own
Understanding Lens Aperture and Its Impact on Photos
Comparing Wide-Angle Lenses: Which to Choose?
In-depth Camera Body Reviews
Mastering Zoom Lenses for Landscape Photography
The Role of Focal Length in Portraiture
Latest Innovations in Camera Technology
Expert Tips for Cleaning and Maintaining Your Lenses
Ultimate Lens Buying Guide
DSLR vs. Mirrorless: Which is Right for You
Top 5 Prime Lenses Every Photographer Should Own
Understanding Lens Aperture and Its Impact on Photos
Comparing Wide-Angle Lenses: Which to Choose?
In-depth Camera Body Reviews
Mastering Zoom Lenses for Landscape Photography
The Role of Focal Length in Portraiture
Latest Innovations in Camera Technology
Expert Tips for Cleaning and Maintaining Your Lenses
Ultimate Lens Buying Guide
DSLR vs. Mirrorless: Which is Right for You
Top 5 Prime Lenses Every Photographer Should Own
Understanding Lens Aperture and Its Impact on Photos
Comparing Wide-Angle Lenses: Which to Choose?
In-depth Camera Body Reviews
Mastering Zoom Lenses for Landscape Photography
The Role of Focal Length in Portraiture
Latest Innovations in Camera Technology
Expert Tips for Cleaning and Maintaining Your Lenses
Ultimate Lens Buying Guide
DSLR vs. Mirrorless: Which is Right for You
Top 5 Prime Lenses Every Photographer Should Own
Understanding Lens Aperture and Its Impact on Photos
Comparing Wide-Angle Lenses: Which to Choose?
In-depth Camera Body Reviews
Mastering Zoom Lenses for Landscape Photography
The Role of Focal Length in Portraiture
Latest Innovations in Camera Technology
Expert Tips for Cleaning and Maintaining Your Lenses
Ultimate Lens Buying Guide
DSLR vs. Mirrorless: Which is Right for You
Top 5 Prime Lenses Every Photographer Should Own
Understanding Lens Aperture and Its Impact on Photos
Comparing Wide-Angle Lenses: Which to Choose?
In-depth Camera Body Reviews
Mastering Zoom Lenses for Landscape Photography
The Role of Focal Length in Portraiture
Latest Innovations in Camera Technology
Expert Tips for Cleaning and Maintaining Your Lenses
Ultimate Lens Buying Guide
DSLR vs. Mirrorless: Which is Right for You
Top 5 Prime Lenses Every Photographer Should Own
Understanding Lens Aperture and Its Impact on Photos
Comparing Wide-Angle Lenses: Which to Choose?
In-depth Camera Body Reviews