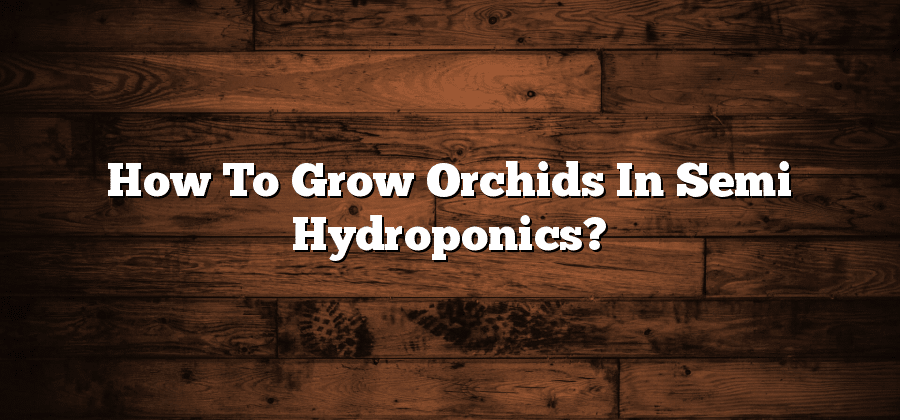 Orchids are renowned for their exotic beauty and unique charm. These captivating plants have a reputation for being somewhat finicky, but with the right care and cultivation techniques, they can thrive in various environments. One increasingly popular method for growing orchids is semi-hydroponics, which offers a more controlled and low-maintenance approach to orchid care. In this article, we will explore the steps and considerations for successfully growing orchids in a semi-hydroponic setup.
What Is Semi Hydroponics?
Semi-hydroponics, also known as semi-hydro or simply S/H, is a growing method that combines elements of traditional potting and hydroponic cultivation. In this system, orchids are grown in containers filled with an inert, moisture-retaining medium that provides consistent access to water and nutrients. Unlike traditional soil-based methods, semi-hydroponics minimizes the risk of overwatering and root rot, making it an attractive option for orchid enthusiasts.
Choosing the Right Orchid
Not all orchids are equally suited for semi-hydroponic cultivation. Some orchid species and hybrids are more adaptable to this growing method than others. When selecting orchids for your semi-hydroponic setup, consider the following factors:
1. Epiphytic Orchids:
Epiphytic orchids, such as Phalaenopsis, Dendrobium, and Oncidium, are excellent candidates for semi-hydroponics. These orchids naturally grow on trees and rocks in the wild, making them well-suited to the open, airy environment of a semi-hydroponic system.
2. Avoid Terrestrial Orchids:
Terrestrial orchids, which grow in soil in their natural habitat, are generally less suitable for semi-hydroponics. Examples of terrestrial orchids include Paphiopedilum and Cymbidium. While it is possible to grow these orchids in a semi-hydroponic setup, it may require more specialized care.
Setting Up Your Semi-Hydroponic System
1. Container Selection:
Choose transparent or semi-transparent containers to allow light to reach the roots. Clear plastic pots or containers with built-in reservoirs are common choices for semi-hydroponic orchid growing.
2. Growing Medium:
Select an inert medium like LECA (Lightweight Expanded Clay Aggregate) or perlite. Avoid organic potting mix, as it can lead to decomposition and root issues in a semi-hydroponic setup.
3. Potting Process:
Place the orchid into the container with the growing medium. Ensure that the roots are in contact with the medium, but avoid overcrowding. Leave some space at the top to allow air circulation.
4. Water and Nutrient Solution:
Fill the reservoir at the bottom of the container with water and a diluted orchid-specific fertilizer. The growing medium wicks moisture and nutrients up to the roots as needed, creating a self-regulating system.
Care and Maintenance
Semi-hydroponic orchids require less frequent watering than those in traditional potting mixes, but they still need attention:
1. Monitor Water Level:
Regularly check the water level in the reservoir. Refill it when it is low, ensuring that the roots have access to moisture.
2. Fertilize Wisely:
Use a balanced, orchid-specific fertilizer at half-strength or as recommended on the product label. Apply it during the growing season (usually spring and summer) and reduce or cease fertilization during the dormant period.
3. Provide Adequate Light:
Orchids need appropriate lighting conditions. Most prefer bright, indirect light. Adjust the placement of your orchids to ensure they receive the right amount of light for their species.
Conclusion
Growing orchids in semi-hydroponics can be a rewarding and efficient way to cultivate these stunning plants. By selecting the right orchid species, setting up a suitable system, and providing proper care, you can enjoy healthy orchids with vibrant blooms. Remember that while semi-hydroponics simplifies some aspects of orchid care, it still requires attention and diligence to ensure your orchids thrive in this unique growing environment. Happy orchid growing!
Mastering Zoom Lenses for Landscape Photography
The Role of Focal Length in Portraiture
Latest Innovations in Camera Technology
Expert Tips for Cleaning and Maintaining Your Lenses
Ultimate Lens Buying Guide
DSLR vs. Mirrorless: Which is Right for You
Top 5 Prime Lenses Every Photographer Should Own
Understanding Lens Aperture and Its Impact on Photos
Comparing Wide-Angle Lenses: Which to Choose?
In-depth Camera Body Reviews
Mastering Zoom Lenses for Landscape Photography
The Role of Focal Length in Portraiture
Latest Innovations in Camera Technology
Expert Tips for Cleaning and Maintaining Your Lenses
Ultimate Lens Buying Guide
DSLR vs. Mirrorless: Which is Right for You
Top 5 Prime Lenses Every Photographer Should Own
Understanding Lens Aperture and Its Impact on Photos
Comparing Wide-Angle Lenses: Which to Choose?
In-depth Camera Body Reviews
Mastering Zoom Lenses for Landscape Photography
The Role of Focal Length in Portraiture
Latest Innovations in Camera Technology
Expert Tips for Cleaning and Maintaining Your Lenses
Ultimate Lens Buying Guide
DSLR vs. Mirrorless: Which is Right for You
Top 5 Prime Lenses Every Photographer Should Own
Understanding Lens Aperture and Its Impact on Photos
Comparing Wide-Angle Lenses: Which to Choose?
In-depth Camera Body Reviews
Mastering Zoom Lenses for Landscape Photography
The Role of Focal Length in Portraiture
Latest Innovations in Camera Technology
Expert Tips for Cleaning and Maintaining Your Lenses
Ultimate Lens Buying Guide
DSLR vs. Mirrorless: Which is Right for You
Top 5 Prime Lenses Every Photographer Should Own
Understanding Lens Aperture and Its Impact on Photos
Comparing Wide-Angle Lenses: Which to Choose?
In-depth Camera Body Reviews
Mastering Zoom Lenses for Landscape Photography
The Role of Focal Length in Portraiture
Latest Innovations in Camera Technology
Expert Tips for Cleaning and Maintaining Your Lenses
Ultimate Lens Buying Guide
DSLR vs. Mirrorless: Which is Right for You
Top 5 Prime Lenses Every Photographer Should Own
Understanding Lens Aperture and Its Impact on Photos
Comparing Wide-Angle Lenses: Which to Choose?
In-depth Camera Body Reviews
Mastering Zoom Lenses for Landscape Photography
The Role of Focal Length in Portraiture
Latest Innovations in Camera Technology
Expert Tips for Cleaning and Maintaining Your Lenses
Ultimate Lens Buying Guide
DSLR vs. Mirrorless: Which is Right for You
Top 5 Prime Lenses Every Photographer Should Own
Understanding Lens Aperture and Its Impact on Photos
Comparing Wide-Angle Lenses: Which to Choose?
In-depth Camera Body Reviews
Mastering Zoom Lenses for Landscape Photography
The Role of Focal Length in Portraiture
Latest Innovations in Camera Technology
Expert Tips for Cleaning and Maintaining Your Lenses
Ultimate Lens Buying Guide
DSLR vs. Mirrorless: Which is Right for You
Top 5 Prime Lenses Every Photographer Should Own
Understanding Lens Aperture and Its Impact on Photos
Comparing Wide-Angle Lenses: Which to Choose?
In-depth Camera Body Reviews
Mastering Zoom Lenses for Landscape Photography
The Role of Focal Length in Portraiture
Latest Innovations in Camera Technology
Expert Tips for Cleaning and Maintaining Your Lenses
Ultimate Lens Buying Guide
DSLR vs. Mirrorless: Which is Right for You
Top 5 Prime Lenses Every Photographer Should Own
Understanding Lens Aperture and Its Impact on Photos
Comparing Wide-Angle Lenses: Which to Choose?
In-depth Camera Body Reviews
Mastering Zoom Lenses for Landscape Photography
The Role of Focal Length in Portraiture
Latest Innovations in Camera Technology
Expert Tips for Cleaning and Maintaining Your Lenses
Ultimate Lens Buying Guide
DSLR vs. Mirrorless: Which is Right for You
Top 5 Prime Lenses Every Photographer Should Own
Understanding Lens Aperture and Its Impact on Photos
Comparing Wide-Angle Lenses: Which to Choose?
In-depth Camera Body Reviews
Mastering Zoom Lenses for Landscape Photography
The Role of Focal Length in Portraiture
Latest Innovations in Camera Technology
Expert Tips for Cleaning and Maintaining Your Lenses
Ultimate Lens Buying Guide
DSLR vs. Mirrorless: Which is Right for You
Top 5 Prime Lenses Every Photographer Should Own
Understanding Lens Aperture and Its Impact on Photos
Comparing Wide-Angle Lenses: Which to Choose?
In-depth Camera Body Reviews
Mastering Zoom Lenses for Landscape Photography
The Role of Focal Length in Portraiture
Latest Innovations in Camera Technology
Expert Tips for Cleaning and Maintaining Your Lenses
Ultimate Lens Buying Guide
DSLR vs. Mirrorless: Which is Right for You
Top 5 Prime Lenses Every Photographer Should Own
Understanding Lens Aperture and Its Impact on Photos
Comparing Wide-Angle Lenses: Which to Choose?
In-depth Camera Body Reviews
Mastering Zoom Lenses for Landscape Photography
The Role of Focal Length in Portraiture
Latest Innovations in Camera Technology
Expert Tips for Cleaning and Maintaining Your Lenses
Ultimate Lens Buying Guide
DSLR vs. Mirrorless: Which is Right for You
Top 5 Prime Lenses Every Photographer Should Own
Understanding Lens Aperture and Its Impact on Photos
Comparing Wide-Angle Lenses: Which to Choose?
In-depth Camera Body Reviews
Mastering Zoom Lenses for Landscape Photography
The Role of Focal Length in Portraiture
Latest Innovations in Camera Technology
Expert Tips for Cleaning and Maintaining Your Lenses
Ultimate Lens Buying Guide
DSLR vs. Mirrorless: Which is Right for You
Top 5 Prime Lenses Every Photographer Should Own
Understanding Lens Aperture and Its Impact on Photos
Comparing Wide-Angle Lenses: Which to Choose?
In-depth Camera Body Reviews
Mastering Zoom Lenses for Landscape Photography
The Role of Focal Length in Portraiture
Latest Innovations in Camera Technology
Expert Tips for Cleaning and Maintaining Your Lenses
Ultimate Lens Buying Guide
DSLR vs. Mirrorless: Which is Right for You
Top 5 Prime Lenses Every Photographer Should Own
Understanding Lens Aperture and Its Impact on Photos
Comparing Wide-Angle Lenses: Which to Choose?
In-depth Camera Body Reviews
Mastering Zoom Lenses for Landscape Photography
The Role of Focal Length in Portraiture
Latest Innovations in Camera Technology
Expert Tips for Cleaning and Maintaining Your Lenses
Ultimate Lens Buying Guide
DSLR vs. Mirrorless: Which is Right for You
Top 5 Prime Lenses Every Photographer Should Own
Understanding Lens Aperture and Its Impact on Photos
Comparing Wide-Angle Lenses: Which to Choose?
In-depth Camera Body Reviews
Mastering Zoom Lenses for Landscape Photography
The Role of Focal Length in Portraiture
Latest Innovations in Camera Technology
Expert Tips for Cleaning and Maintaining Your Lenses
Ultimate Lens Buying Guide
DSLR vs. Mirrorless: Which is Right for You
Top 5 Prime Lenses Every Photographer Should Own
Understanding Lens Aperture and Its Impact on Photos
Comparing Wide-Angle Lenses: Which to Choose?
In-depth Camera Body Reviews
Mastering Zoom Lenses for Landscape Photography
The Role of Focal Length in Portraiture
Latest Innovations in Camera Technology
Expert Tips for Cleaning and Maintaining Your Lenses
Ultimate Lens Buying Guide
DSLR vs. Mirrorless: Which is Right for You
Top 5 Prime Lenses Every Photographer Should Own
Understanding Lens Aperture and Its Impact on Photos
Comparing Wide-Angle Lenses: Which to Choose?
In-depth Camera Body Reviews
Mastering Zoom Lenses for Landscape Photography
The Role of Focal Length in Portraiture
Latest Innovations in Camera Technology
Expert Tips for Cleaning and Maintaining Your Lenses
Ultimate Lens Buying Guide
DSLR vs. Mirrorless: Which is Right for You
Top 5 Prime Lenses Every Photographer Should Own
Understanding Lens Aperture and Its Impact on Photos
Comparing Wide-Angle Lenses: Which to Choose?
In-depth Camera Body Reviews
Mastering Zoom Lenses for Landscape Photography
The Role of Focal Length in Portraiture
Latest Innovations in Camera Technology
Expert Tips for Cleaning and Maintaining Your Lenses
Ultimate Lens Buying Guide
DSLR vs. Mirrorless: Which is Right for You
Top 5 Prime Lenses Every Photographer Should Own
Understanding Lens Aperture and Its Impact on Photos
Comparing Wide-Angle Lenses: Which to Choose?
In-depth Camera Body Reviews
Mastering Zoom Lenses for Landscape Photography
The Role of Focal Length in Portraiture
Latest Innovations in Camera Technology
Expert Tips for Cleaning and Maintaining Your Lenses
Ultimate Lens Buying Guide
DSLR vs. Mirrorless: Which is Right for You
Top 5 Prime Lenses Every Photographer Should Own
Understanding Lens Aperture and Its Impact on Photos
Comparing Wide-Angle Lenses: Which to Choose?
In-depth Camera Body Reviews