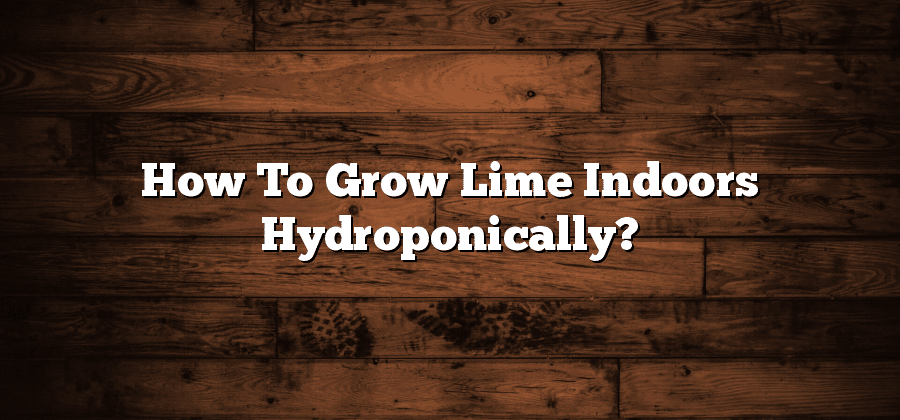 Lime trees, with their aromatic blossoms and tangy fruits, are not only popular in outdoor gardens but can also thrive indoors using hydroponics. This method of cultivation, devoid of soil and relying solely on nutrient-rich water, can help you yield a healthy lime crop right inside your home.
---
Choosing the Right Lime Variety
Before diving into hydroponics, it's essential to choose a lime variety suited for indoor growth.
Dwarf Varieties
Opt for dwarf lime tree varieties like 'Dwarf Key Lime' or 'Dwarf Persian Lime'. These are compact and perfect for indoor conditions.
---
Setting Up The Hydroponic System
Deep Water Culture (DWC)
One of the simplest hydroponic systems, DWC involves suspending plant roots in a nutrient-rich water solution. An air pump provides oxygen to the roots.
Nutrient Film Technique (NFT)
In NFT systems, a thin film of nutrient solution constantly flows over the roots, ensuring they get both nutrients and oxygen.
Ebb and Flow
This system periodically floods the root zone with a nutrient solution, which then drains back, allowing roots to breathe.
---
Preparing the Lime Seedlings
Germination
Soak lime seeds for 24 hours in water. Then, plant them in a rockwool cube, keeping them moist and warm until they sprout.
Transplanting
Once your seedling has developed a few leaves, it's ready for the hydroponic system.
---
Nutrient Solution
Balanced Nutrients
For lime trees, ensure a balanced mix of macro and micronutrients. Essential elements include Nitrogen, Phosphorus, Potassium, Calcium, Magnesium, and Sulfur.
pH Levels
Maintain a pH level of 5.8 to 6.8. Regularly monitor and adjust using pH up or down solutions.
---
Light Requirements
Lime trees require adequate light to produce fruit.
Natural Light
Place the hydroponic system near a sunny window where it receives at least 8-10 hours of sunlight.
Artificial Light
If natural light is inadequate, supplement with grow lights. LED or HID lights are suitable for lime trees. Ensure 12-14 hours of light exposure daily.
---
Temperature and Humidity
Temperature
Lime trees prefer temperatures between 70°F to 85°F during the day and slightly cooler at night.
Humidity
A humidity level of 50-70% is ideal. Use a humidifier or place water trays around the plant to increase humidity if necessary.
---
Pollination
Indoor lime trees might require manual pollination.
Using a Paintbrush
Gently transfer pollen from one flower to another using a small paintbrush.
Shaking the Tree
Another method involves gently shaking the tree to disperse pollen.
---
Pruning and Maintenance
Pruning
Regularly prune your lime tree to maintain its shape and size, especially if it's a dwarf variety.
Pests and Diseases
Watch out for pests like spider mites or aphids. Use organic insecticidal soap or neem oil as preventive measures.
---
Harvesting
Maturity Indication
Limes are ready to harvest when they are fully sized, have a bright green color (or slightly yellowish for certain varieties), and are slightly soft to touch.
Picking
Use shears to snip the fruit stem, ensuring you don't damage the tree.
---
Conclusion
Growing lime trees indoors using hydroponics is not only an exciting endeavor but also offers the delightful reward of fresh, home-grown limes. With attention to light, nutrients, and the right growing conditions, you can enjoy a bountiful lime harvest year-round.
Mastering Zoom Lenses for Landscape Photography
The Role of Focal Length in Portraiture
Latest Innovations in Camera Technology
Expert Tips for Cleaning and Maintaining Your Lenses
Ultimate Lens Buying Guide
DSLR vs. Mirrorless: Which is Right for You
Top 5 Prime Lenses Every Photographer Should Own
Understanding Lens Aperture and Its Impact on Photos
Comparing Wide-Angle Lenses: Which to Choose?
In-depth Camera Body Reviews
Mastering Zoom Lenses for Landscape Photography
The Role of Focal Length in Portraiture
Latest Innovations in Camera Technology
Expert Tips for Cleaning and Maintaining Your Lenses
Ultimate Lens Buying Guide
DSLR vs. Mirrorless: Which is Right for You
Top 5 Prime Lenses Every Photographer Should Own
Understanding Lens Aperture and Its Impact on Photos
Comparing Wide-Angle Lenses: Which to Choose?
In-depth Camera Body Reviews
Mastering Zoom Lenses for Landscape Photography
The Role of Focal Length in Portraiture
Latest Innovations in Camera Technology
Expert Tips for Cleaning and Maintaining Your Lenses
Ultimate Lens Buying Guide
DSLR vs. Mirrorless: Which is Right for You
Top 5 Prime Lenses Every Photographer Should Own
Understanding Lens Aperture and Its Impact on Photos
Comparing Wide-Angle Lenses: Which to Choose?
In-depth Camera Body Reviews
Mastering Zoom Lenses for Landscape Photography
The Role of Focal Length in Portraiture
Latest Innovations in Camera Technology
Expert Tips for Cleaning and Maintaining Your Lenses
Ultimate Lens Buying Guide
DSLR vs. Mirrorless: Which is Right for You
Top 5 Prime Lenses Every Photographer Should Own
Understanding Lens Aperture and Its Impact on Photos
Comparing Wide-Angle Lenses: Which to Choose?
In-depth Camera Body Reviews
Mastering Zoom Lenses for Landscape Photography
The Role of Focal Length in Portraiture
Latest Innovations in Camera Technology
Expert Tips for Cleaning and Maintaining Your Lenses
Ultimate Lens Buying Guide
DSLR vs. Mirrorless: Which is Right for You
Top 5 Prime Lenses Every Photographer Should Own
Understanding Lens Aperture and Its Impact on Photos
Comparing Wide-Angle Lenses: Which to Choose?
In-depth Camera Body Reviews
Mastering Zoom Lenses for Landscape Photography
The Role of Focal Length in Portraiture
Latest Innovations in Camera Technology
Expert Tips for Cleaning and Maintaining Your Lenses
Ultimate Lens Buying Guide
DSLR vs. Mirrorless: Which is Right for You
Top 5 Prime Lenses Every Photographer Should Own
Understanding Lens Aperture and Its Impact on Photos
Comparing Wide-Angle Lenses: Which to Choose?
In-depth Camera Body Reviews
Mastering Zoom Lenses for Landscape Photography
The Role of Focal Length in Portraiture
Latest Innovations in Camera Technology
Expert Tips for Cleaning and Maintaining Your Lenses
Ultimate Lens Buying Guide
DSLR vs. Mirrorless: Which is Right for You
Top 5 Prime Lenses Every Photographer Should Own
Understanding Lens Aperture and Its Impact on Photos
Comparing Wide-Angle Lenses: Which to Choose?
In-depth Camera Body Reviews
Mastering Zoom Lenses for Landscape Photography
The Role of Focal Length in Portraiture
Latest Innovations in Camera Technology
Expert Tips for Cleaning and Maintaining Your Lenses
Ultimate Lens Buying Guide
DSLR vs. Mirrorless: Which is Right for You
Top 5 Prime Lenses Every Photographer Should Own
Understanding Lens Aperture and Its Impact on Photos
Comparing Wide-Angle Lenses: Which to Choose?
In-depth Camera Body Reviews
Mastering Zoom Lenses for Landscape Photography
The Role of Focal Length in Portraiture
Latest Innovations in Camera Technology
Expert Tips for Cleaning and Maintaining Your Lenses
Ultimate Lens Buying Guide
DSLR vs. Mirrorless: Which is Right for You
Top 5 Prime Lenses Every Photographer Should Own
Understanding Lens Aperture and Its Impact on Photos
Comparing Wide-Angle Lenses: Which to Choose?
In-depth Camera Body Reviews
Mastering Zoom Lenses for Landscape Photography
The Role of Focal Length in Portraiture
Latest Innovations in Camera Technology
Expert Tips for Cleaning and Maintaining Your Lenses
Ultimate Lens Buying Guide
DSLR vs. Mirrorless: Which is Right for You
Top 5 Prime Lenses Every Photographer Should Own
Understanding Lens Aperture and Its Impact on Photos
Comparing Wide-Angle Lenses: Which to Choose?
In-depth Camera Body Reviews
Mastering Zoom Lenses for Landscape Photography
The Role of Focal Length in Portraiture
Latest Innovations in Camera Technology
Expert Tips for Cleaning and Maintaining Your Lenses
Ultimate Lens Buying Guide
DSLR vs. Mirrorless: Which is Right for You
Top 5 Prime Lenses Every Photographer Should Own
Understanding Lens Aperture and Its Impact on Photos
Comparing Wide-Angle Lenses: Which to Choose?
In-depth Camera Body Reviews
Mastering Zoom Lenses for Landscape Photography
The Role of Focal Length in Portraiture
Latest Innovations in Camera Technology
Expert Tips for Cleaning and Maintaining Your Lenses
Ultimate Lens Buying Guide
DSLR vs. Mirrorless: Which is Right for You
Top 5 Prime Lenses Every Photographer Should Own
Understanding Lens Aperture and Its Impact on Photos
Comparing Wide-Angle Lenses: Which to Choose?
In-depth Camera Body Reviews
Mastering Zoom Lenses for Landscape Photography
The Role of Focal Length in Portraiture
Latest Innovations in Camera Technology
Expert Tips for Cleaning and Maintaining Your Lenses
Ultimate Lens Buying Guide
DSLR vs. Mirrorless: Which is Right for You
Top 5 Prime Lenses Every Photographer Should Own
Understanding Lens Aperture and Its Impact on Photos
Comparing Wide-Angle Lenses: Which to Choose?
In-depth Camera Body Reviews
Mastering Zoom Lenses for Landscape Photography
The Role of Focal Length in Portraiture
Latest Innovations in Camera Technology
Expert Tips for Cleaning and Maintaining Your Lenses
Ultimate Lens Buying Guide
DSLR vs. Mirrorless: Which is Right for You
Top 5 Prime Lenses Every Photographer Should Own
Understanding Lens Aperture and Its Impact on Photos
Comparing Wide-Angle Lenses: Which to Choose?
In-depth Camera Body Reviews
Mastering Zoom Lenses for Landscape Photography
The Role of Focal Length in Portraiture
Latest Innovations in Camera Technology
Expert Tips for Cleaning and Maintaining Your Lenses
Ultimate Lens Buying Guide
DSLR vs. Mirrorless: Which is Right for You
Top 5 Prime Lenses Every Photographer Should Own
Understanding Lens Aperture and Its Impact on Photos
Comparing Wide-Angle Lenses: Which to Choose?
In-depth Camera Body Reviews
Mastering Zoom Lenses for Landscape Photography
The Role of Focal Length in Portraiture
Latest Innovations in Camera Technology
Expert Tips for Cleaning and Maintaining Your Lenses
Ultimate Lens Buying Guide
DSLR vs. Mirrorless: Which is Right for You
Top 5 Prime Lenses Every Photographer Should Own
Understanding Lens Aperture and Its Impact on Photos
Comparing Wide-Angle Lenses: Which to Choose?
In-depth Camera Body Reviews
Mastering Zoom Lenses for Landscape Photography
The Role of Focal Length in Portraiture
Latest Innovations in Camera Technology
Expert Tips for Cleaning and Maintaining Your Lenses
Ultimate Lens Buying Guide
DSLR vs. Mirrorless: Which is Right for You
Top 5 Prime Lenses Every Photographer Should Own
Understanding Lens Aperture and Its Impact on Photos
Comparing Wide-Angle Lenses: Which to Choose?
In-depth Camera Body Reviews
Mastering Zoom Lenses for Landscape Photography
The Role of Focal Length in Portraiture
Latest Innovations in Camera Technology
Expert Tips for Cleaning and Maintaining Your Lenses
Ultimate Lens Buying Guide
DSLR vs. Mirrorless: Which is Right for You
Top 5 Prime Lenses Every Photographer Should Own
Understanding Lens Aperture and Its Impact on Photos
Comparing Wide-Angle Lenses: Which to Choose?
In-depth Camera Body Reviews
Mastering Zoom Lenses for Landscape Photography
The Role of Focal Length in Portraiture
Latest Innovations in Camera Technology
Expert Tips for Cleaning and Maintaining Your Lenses
Ultimate Lens Buying Guide
DSLR vs. Mirrorless: Which is Right for You
Top 5 Prime Lenses Every Photographer Should Own
Understanding Lens Aperture and Its Impact on Photos
Comparing Wide-Angle Lenses: Which to Choose?
In-depth Camera Body Reviews
Mastering Zoom Lenses for Landscape Photography
The Role of Focal Length in Portraiture
Latest Innovations in Camera Technology
Expert Tips for Cleaning and Maintaining Your Lenses
Ultimate Lens Buying Guide
DSLR vs. Mirrorless: Which is Right for You
Understanding Lens Aperture and Its Impact on Photos
Comparing Wide-Angle Lenses: Which to Choose?
In-depth Camera Body Reviews